What Makes Shared SQL Server Hosting Right for Small Businesses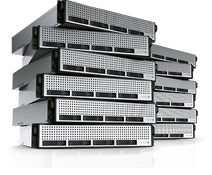 If you've already decided that you would like to build a dynamic, database-driven web page for your business, the next step is to decide whether or not shared SQL server hosting or dedicated hosting is best for your business's needs.
What's The Difference?
Shared server hosting is the cheapest and most popular hosting option among most website owners around the world. All users storing databases on the server will share that server's resources, including data, memory, and disk space. On the other hand, dedicated hosting is just what it sounds like – a dedicated server (and all of its resources) are allotted to a single client. For websites with high traffic or for large corporations, this type of hosting may be ideal. However, many smaller businesses have no reason to spend more money on this kind of plan, and can instead find their needs for a dynamic web page met with shared SQL server hosting.
How Small Businesses Can Benefit
Save on costs! Shared SQL server hosting plans are much less expensive than dedicated hosting plans, so a shared hosting service is ideal for website creators on a budget or looking to cut back on expenses.

When utilizing shared SQL server hosting, your business can purchase only the amount of room that it needs. This is perfect for individuals who do not require a large, dedicated space for their databases.

Leave your worries behind and focus on making your business a success while the professionals of your hosting company handle the complexities of server management and routine maintenance!

Some hosting services even offer 24/7 tech support in order to ensure you have all the help you need to keep your databases accessible and your website running smoothly.
The number of web hosting services and hosting variations are numerous, but with this information to get you started, your small business can make a smart decision about where to purchase its SQL server hosting plan.
For more information, visit Planethosting.com Inc. today!